Drive in Your World...Buy in Ours...
---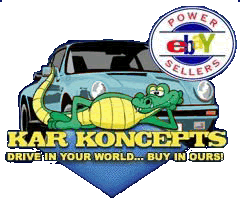 ECars Worldwide and Kar Koncepts are pleased to announce their participation with EBay Motors. Since 2004 we have sold hundreds of vehicles on EBay, exported hundreds more and have become one of the largest dealers of online vehicles. We are proud to maintain a Platinum Powerseller Status and consistently rank among the top dealers online. We are also proud to have you preview our consistently superior feedback rating beating most Lexus, BMW and Mercedes dealers. Our level of service is unsurpassed and we are franchising nationwide. We vow to value the customer as an important individual; to do things right the first time; and to always exceed expectations.
Many people question the value of buying a car online. You can't touch it, you can't drive it and you don't know what you are getting. We beg to differ. A forum like EBay offers you the chance to buy a vehicle at prices that would shock your neighbors, with the confidence that every person that has already bought a car, drove it back home and reviewed it for you to read. Where else do you get to know of people's experiences after they have driven the vehicles they have bought? Not in a private sale and definitely not at your local car dealer.
Hundreds of Thousands of people buying online can't be wrong. The savings are enormous and the cars are WHOLESALE. Use your savings to buy something you've been putting off.
Hundreds of people buying cars from us
can't be wrong.